🤩 Special Accessories Voucher, free gift boleh pilih pilih

✅ Cylinder Head :
Just like the 1290 SUPER DUKE R, the four valves in the cylinder head of the KTM 200 DUKE are actuated by two overhead camshafts and ultra-hard, carbon coated cam followers. The result is an ultra-reliable, long-lasting engine that produces next-level power.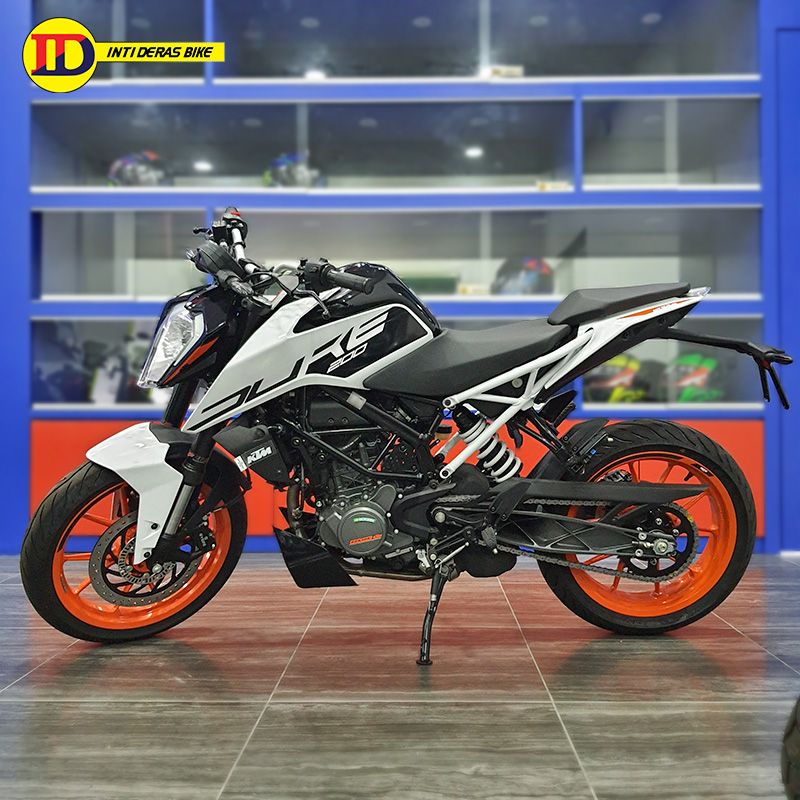 ✅ Engine :
Powered by a powerful single-cylinder engine, the KTM 200 DUKE not only delivers intoxicating acceleration but also everyday rideability. Boasting 19kW (26 hp), it's the most powerful 4-stroke option in its class. Thanks to an updated airbox and exhaust, it meets the highest emission and noise standards, while providing maximum performance.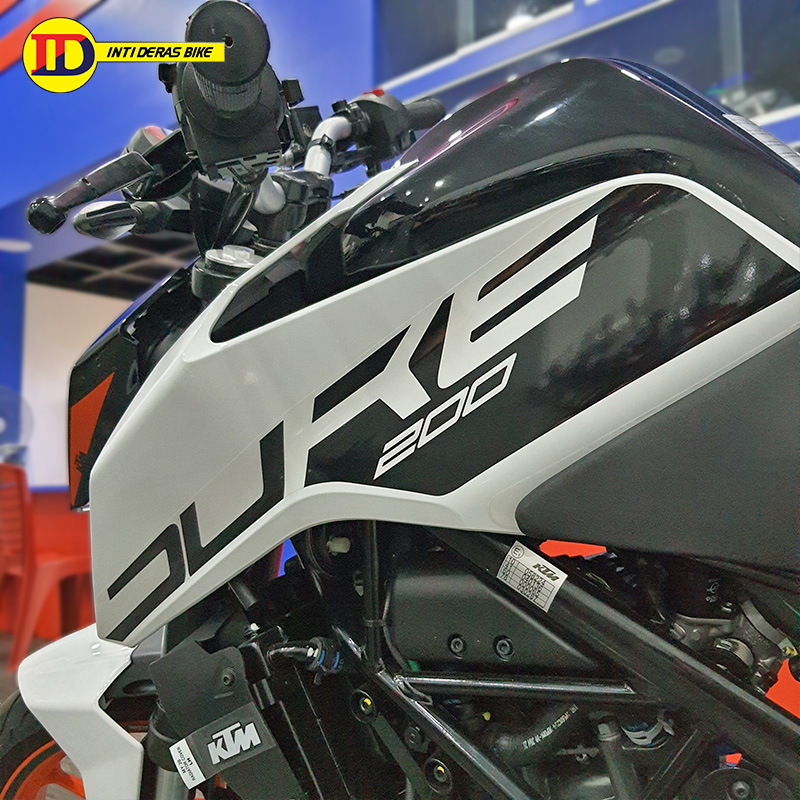 ✅ Headlight :
A new headlight gives the KTM 200 DUKE a menacing look. Not only does it look ultra-mean, its practical too, producing outstanding visibility for riding in low light or dark conditions.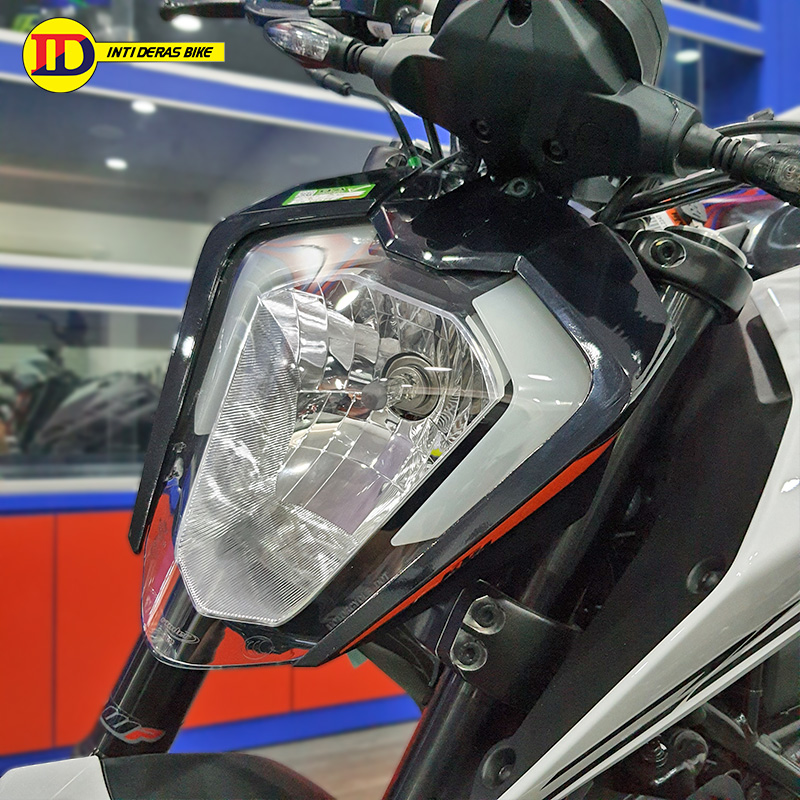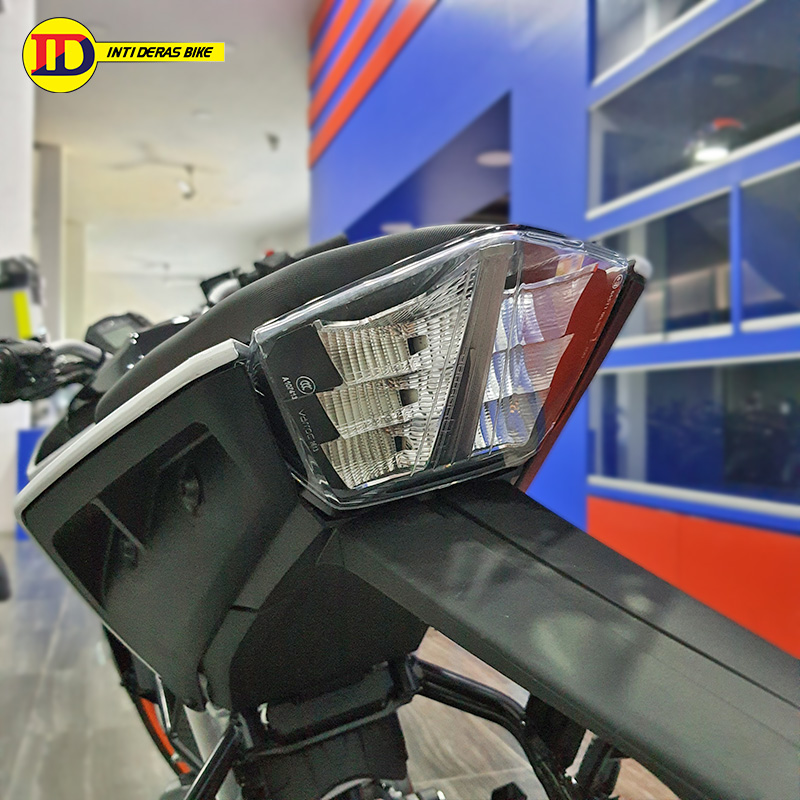 ✅ Aggressive Design :
There's no denying the KTM 200 DUKE is 100% DUKE. Its aggressive-looking headlight, REARY TO RACE stance and sharp lines make it a formidable presence on any street.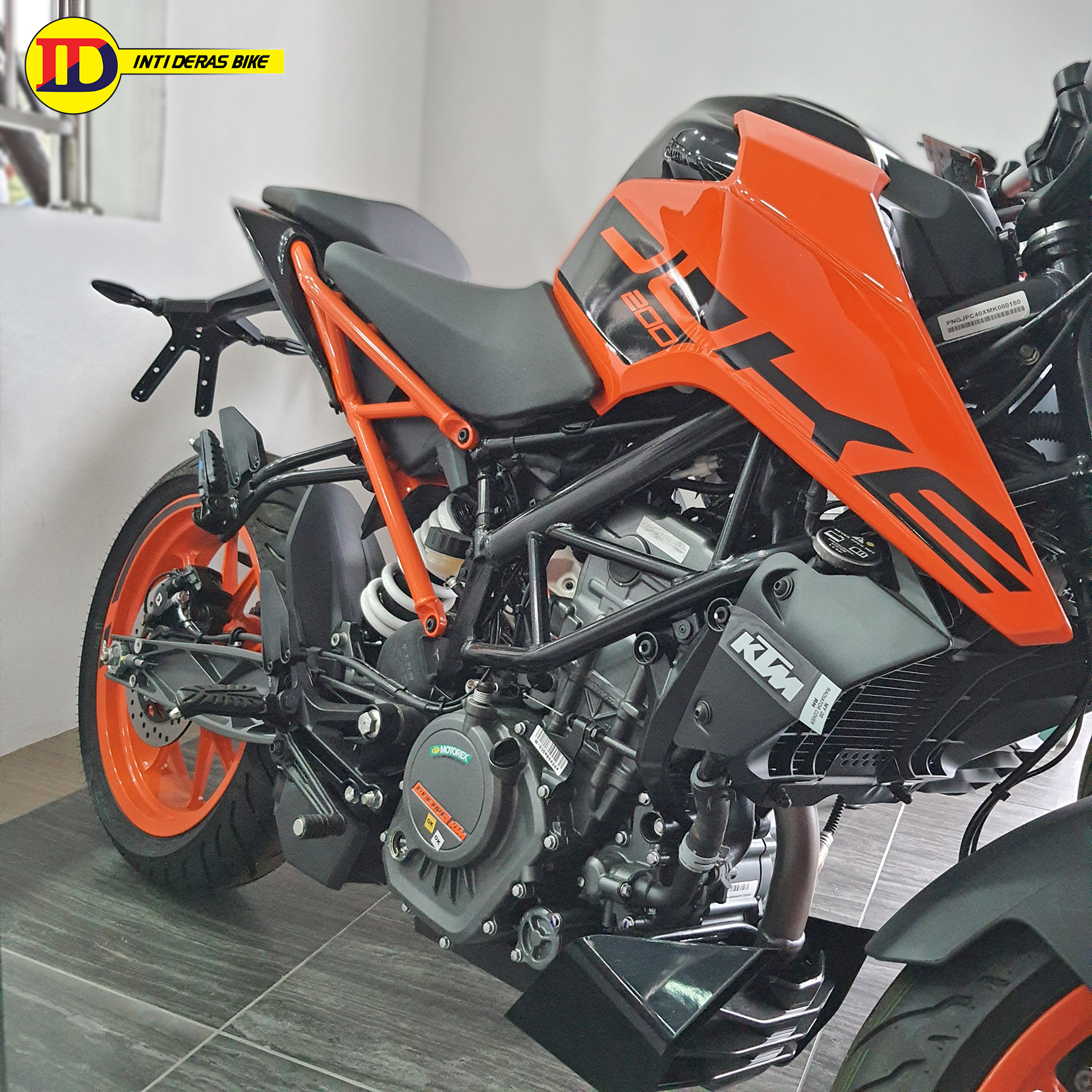 ✅ LCD Display :
A 100% digital LCD display has everything you would expect from a state-of-the-art KTM motorcycle, including engaged gear, fuel gauge and service reminder information. It also comes with an RPM alert to indicate the optimum moment for up-shifting, just like those on the factory street racing machines.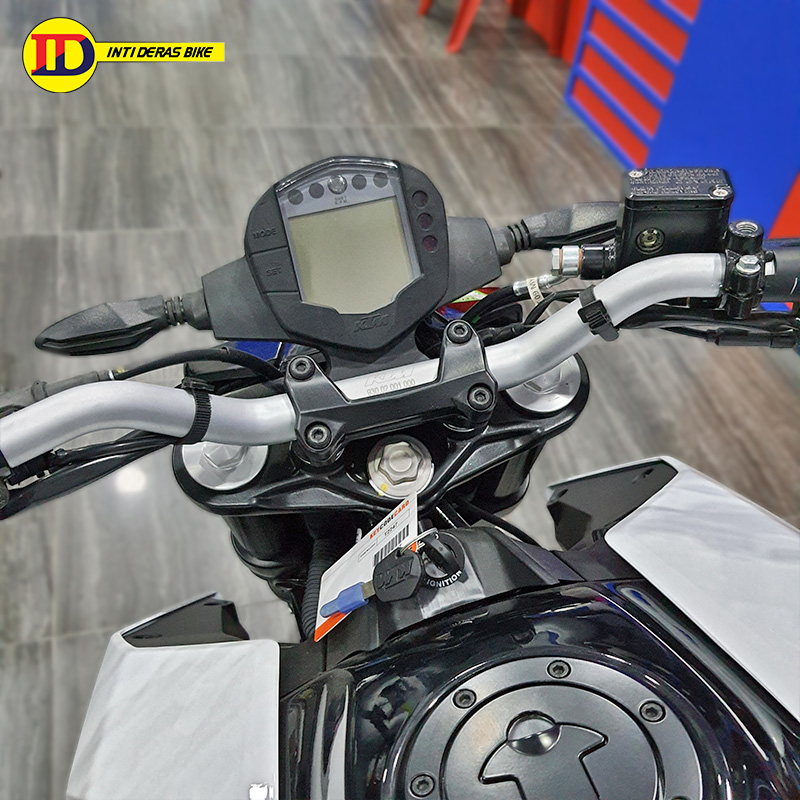 ✅ ABS :
Single channel BOSCH ABS comes as standard on the KTM 200 DUKE. This means you can ride assured knowing that should you have to brake hard and suddenly -the DUKE has your back.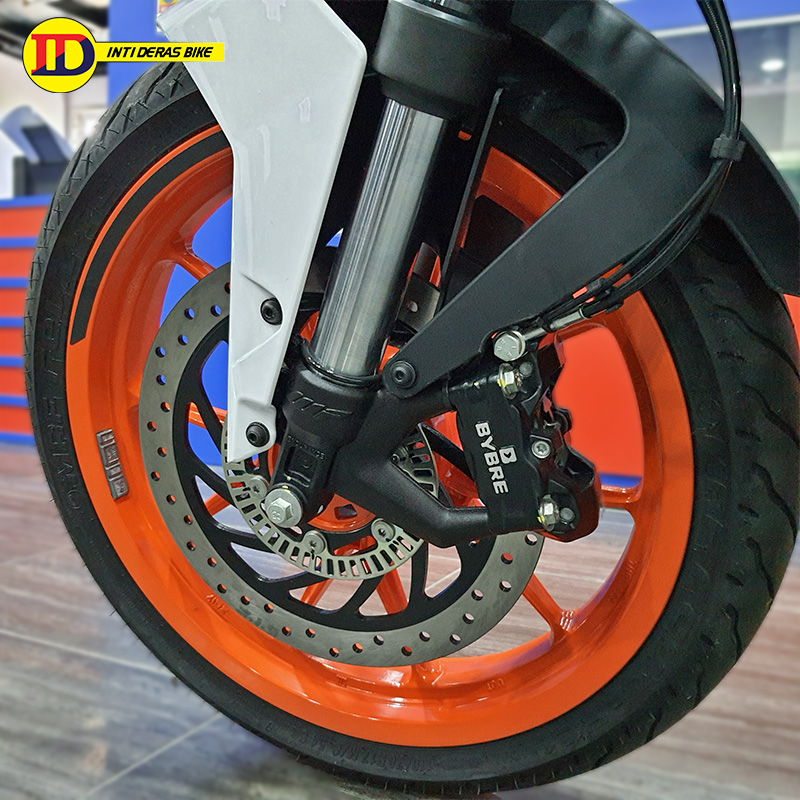 ✅ Seat :
The two-part seat offers first class sport riding ergonomics with maximum support for both rider and pillion.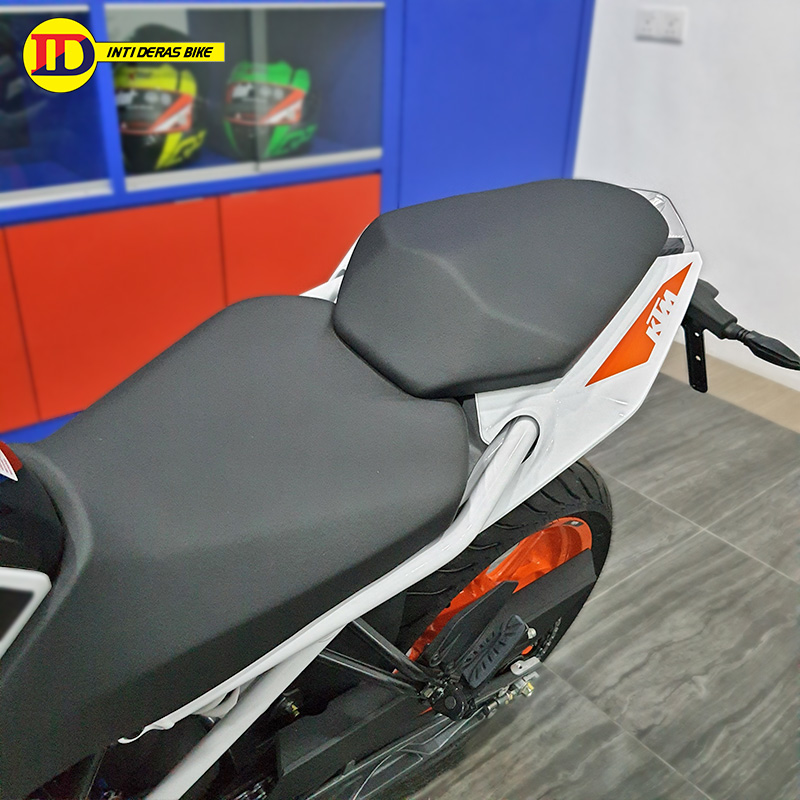 ✅ Fuel Tank :
The innovative and ergonomic 13.4 Liter steel fuel tank not only provides riders with prefect knee contact for attacking every corner, but also with an unbelievably long range, even when you ride as fast as you dare all day long.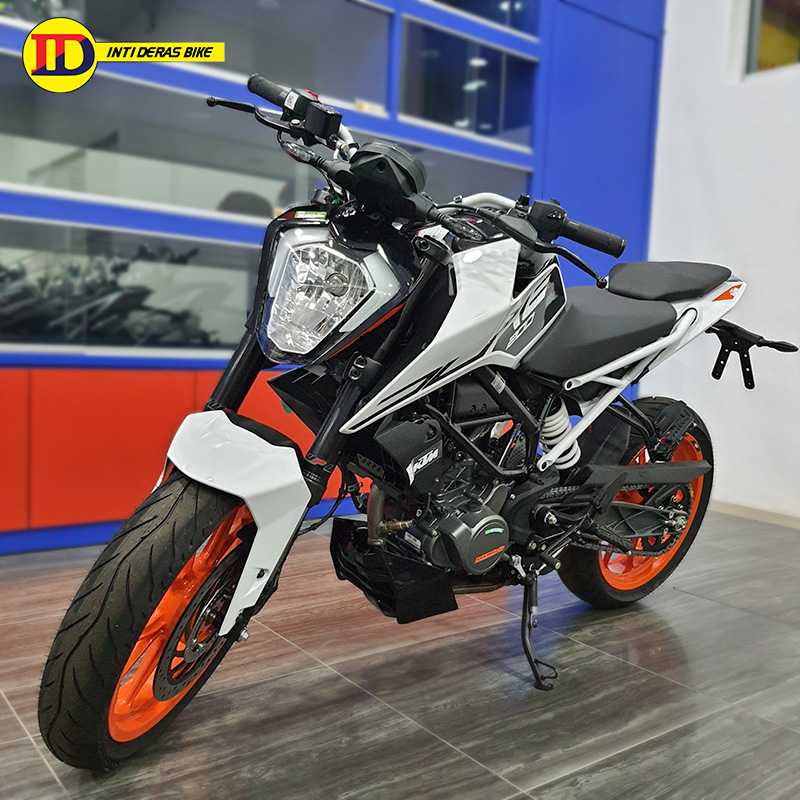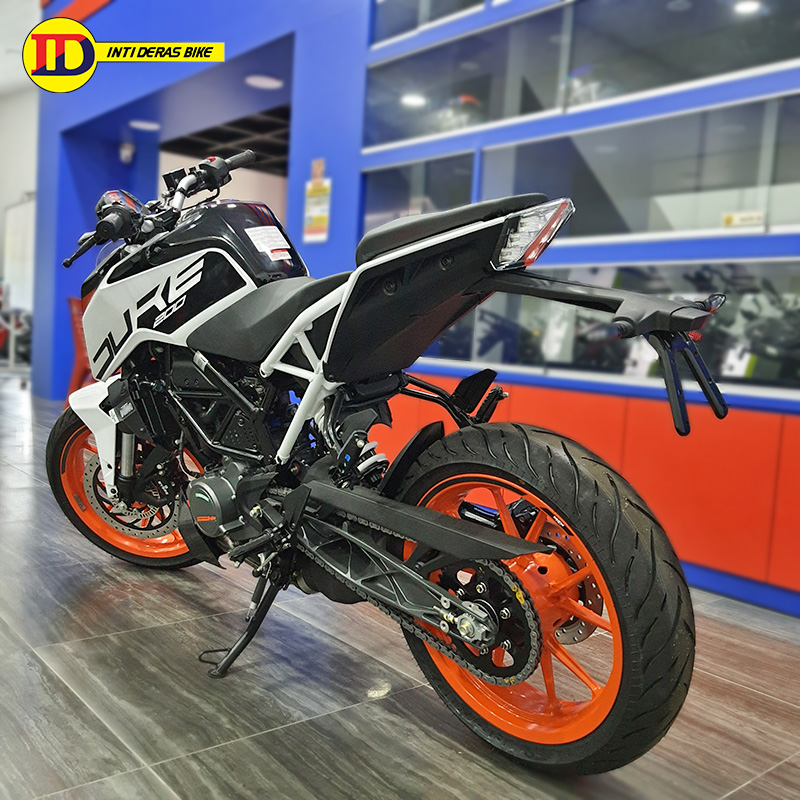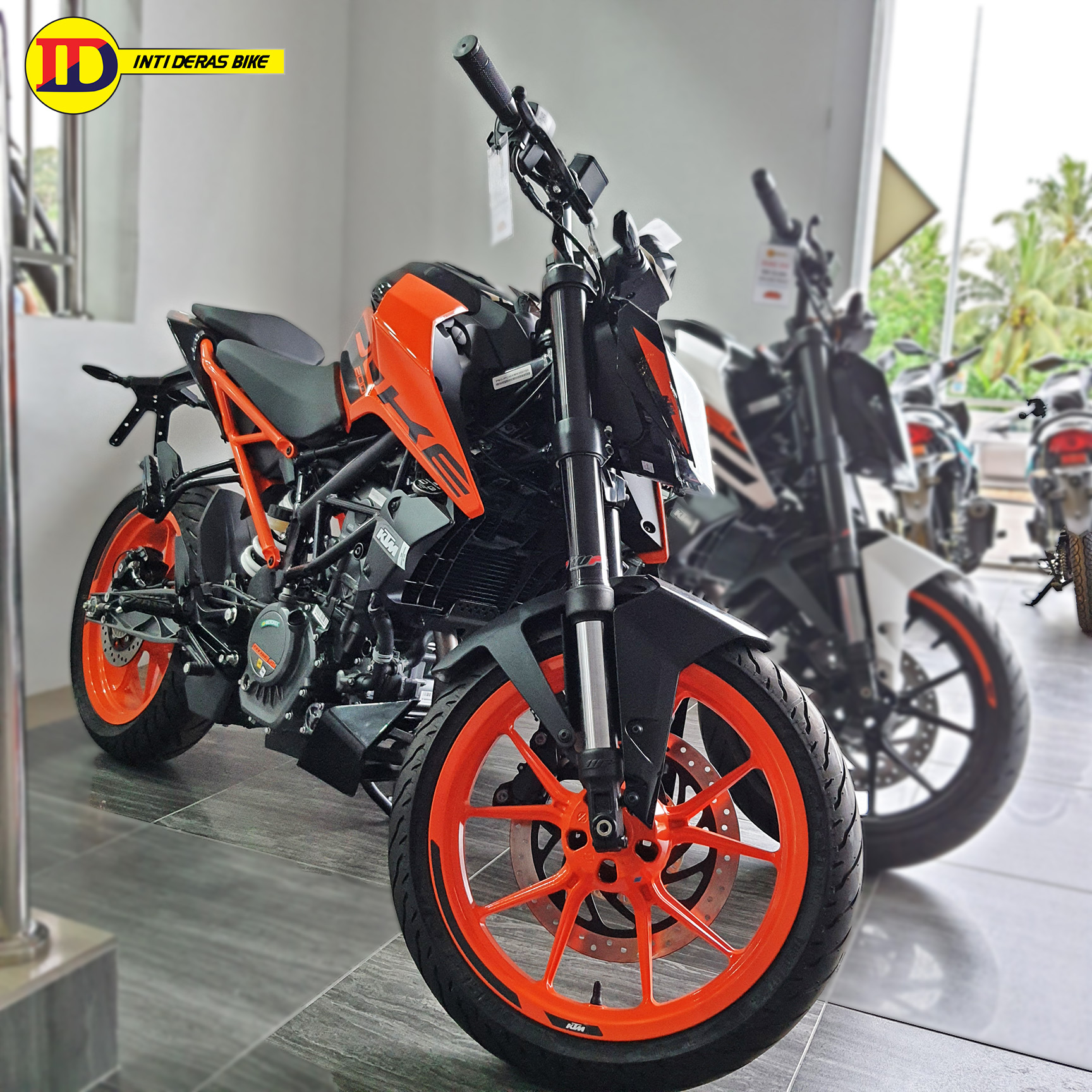 Engine
DESIGN
1-cylinder 4-stroke engine, water-cooled
DISPLACEMENT
200 cm³ (12.2 cu in)
STROKE
49 mm (1.93 in)
BORE
72 mm (2.83 in)
COMPRESSION RATIO
11.5:1
CONTROL
DOHC, 4 valves controlled via cam lever, chain drive
INTAKE VALVE DIAMETER
28.5 mm (1.122 in)
EXHAUST VALVE DIAMETER
24 mm (0.94 in)
VALVE CLEARANCE, INTAKE, COLD
0.08 … 0.12 mm (0.0031 … 0.0047 in)
VALVE CLEARANCE, EXHAUST, COLD
0.13 … 0.17 mm (0.0051 … 0.0067 in)
CRANKSHAFT BEARING
Two ball bearings
CONROD BEARING
Sleeve bearing
PISTONS
Cast light alloy
PISTON RINGS
1 compression ring, 1 tapered compression piston ring, 1 oil scraper ring
ENGINE LUBRICATION
Pressure circulation lubrication with 1 trochoidal pump
PRIMARY TRANSMISSION
22:72
CLUTCH
Clutch in oil bath / mechanically activated
TRANSMISSION
6-gear transmission, claw shifted
Chassis
FRAME
Lattice frame of steel tubes, powder-coated
FORK
WP suspension
SHOCK ABSORBER
WP suspension
FRONT BRAKE SYSTEM
Disc brake with 4-piston brake caliper
REAR BRAKE SYSTEM
Disc brake with single-pot brake caliper, floating
FRONT BRAKE DISC - DIAMETER
300 mm (11.81 in)
REAR BRAKE DISC - DIAMETER
230 mm (9.06 in)
FRONT BRAKE DISC - WEAR LIMIT
4.5 mm (0.177 in)
REAR BRAKE DISC - WEAR LIMIT
3.6 mm (0.142 in)
FRONT TYRE PRESSURE WHEN SOLO
2.0 bar (29 psi)
REAR TYRE PRESSURE WHEN SOLO
2.0 bar (29 psi)
FRONT TYRE PRESSURE WITH PASSENGER / FULL PAYLOAD
2.0 bar (29 psi)
REAR TYRE PRESSURE WITH PASSENGER / FULL PAY LOAD
2.2 bar (32 psi)
SECONDARY RATIO
14:42
CHAIN
5/8 x 1/4" (520) X-ring
STEERING HEAD ANGLE
65°
WHEELBASE
1,367 ± 15 mm (53.82 ± 0.59 in)
SEAT HEIGHT, UNLOADED
800 mm (31.5 in)
DRY WEIGHT
129.5 kg (285.5 lb.)
MAXIMUM PERMISSIBLE FRONT AXLE LOAD
125 kg (276 lb.)
MAXIMUM PERMISSIBLE REAR AXLE LOAD
210 kg (463 lb.)
MAXIMUM PERMISSIBLE OVERALL WEIGHT
335 kg (739 lb.)